4 DAYS DOVE HUNT IN CORDOBA u$s 1380

• 4 night accommodation, 3 full days and 2 half days hunt.

• Based in a minimum of 4 hunters.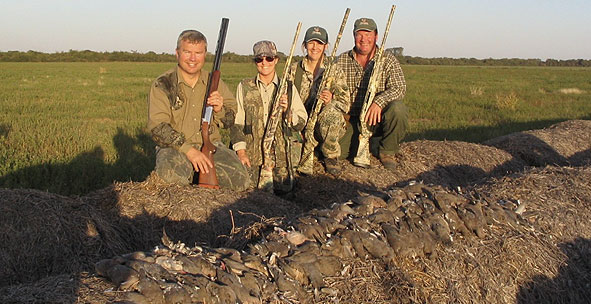 "La Camila Lodge"

You must have to have this experience at least one in a life time.

Dove and Pigeon are considered to be plague in the area, so there are no bag limits or seasons for hunting them. Hunters regularly use two guns and a re-loader to prevent barrel overheating, as they may go through 1,000 rounds.

Cordoba, is situated in the center of the Argentine Republic, is considered to be one of the best places worldwide for dove and pigeon hunting.

It is mountainous area, surrounded by agricultural planting lands.

These two elements are the facts that permit an excellent location for bird reproduction. The local authorities estimated that in an appropriate spot or intersection of a good feeding area and a resting zone, over 1.000.000 doves go through it in just one hour.

That is why they are considered a plague, and there isn't an established bag limit or special seasons for its hunt.

You will enjoy delicious typical food and an exceptional hospitality, apart from other services such as beverages in the fields, birdboys and transportation, among others
Necessary Equipment:
• Two Shotguns (it is always advisable to bring a spare gun since more than 1.000 -shots a day are customary).

• Shooting pad

• Soft cases for the guns

• Ear/eye protection.

• Shooting gloves

• Shell pouch

• Gun scrubber

• Walking shoes

• Video camera.

• Sunscreen

• Hunting clothes.
Includes:

• Reception and customs assistance at Cordoba airport.

• All ground transportation in hunting area.

• Accommodation in Estancia.

• All meals are typical from our country, "asado" and beverages.

• Bird boy.

• 4x4 (all terrain) transportation.

• Beverages: wine, sodas, beer and water.

• Beverages during the hunting.

• Open bar.
Not includes:

• Airfares.

• Laundry service

• Phone call.

• Tips (u$ 25 per day).

• License (u$ 65 per day).

• Gun permits in Argentina ($ 100 per gun).

• Shells, US$ 8 per box (only provided by the company).

• Gun rental u$ 35 per day.

Typical dove shooting day in Argentina:

Following an early American breakfast, hunters are transported to the dove shooting fields, located approximately 20 minutes from the lodge. Each hunter is assigned a birdboy who carries the shells, picks up the birds and caters him in every need.
A full lunch, with an Argentinean barbecue and the finest wines, is served in the field. After a short rest, it's time to go shooting again for the rest of the afternoon.
At the end of the day, our guests are welcome back to the lodge with drinks, followed by dinner
Wingshooting takes place in the central region. Remember seasons are open all year without bag limits for dove and run from may to august for partridge, duck and geese.
Season for Argentina dove hunting:
We can't really talk of a season for doing dove hunting in Argentina, since these birds are available all year round.
Hunters are welcome any time during the year.
Weather:
January, February and March:

Some rains. Temperatures from 70F to 90F.

April and May:

Dry. Temperatures from 60F to 80F

June, July and August:

Dry. Temperatures from 30F to 65F

September and October:

Some rains. Temperatures from 65F to 85F

November and December:

Some rains. Temperatures from 70F to 90F