3 Days Ducks & 3 Days Geese Combined with Pigeon & Partridge.
U$s 2700 per hunter. (U$s 450 per day, minimum of 4 hunters-4 days).

Non hunter U$s 200 per day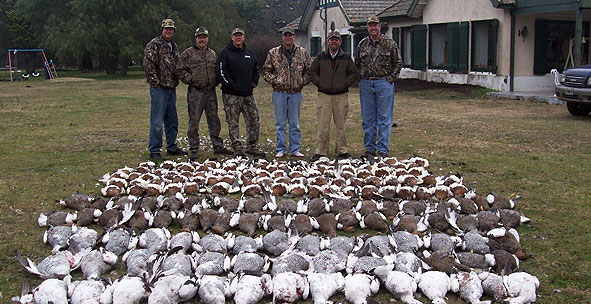 "Huinca Loo Lodge & Yatay Lodge"
You can hunt more than 13 attractive duck species, in 100% natural sceneries, with decoys and a personal bird boy.
Hundreds of geese emigrate to the north, during wintertime, to feed on new pastures, wheat and sunflower fields. Where, every morning with the correct decoys set up, we will be there, laying down waiting for them to empty our guns.
Thousands of pigeons and doves are an awesome activity to prove your good shot conditions.
Wingshooting Season:
• Ducks, from April to August.

• Ducks in rice field, November.

• Geese, from February to August.

• Partridge, from April to June.

• Pigeons and Doves, all year round.
A typical hunting day:

5:30hrs. American breakfast.

6:30hrs. Transfer to the hunting field.

7:30 – 11:00hrs. High volume hunting fun.

12:00hrs. Lunch at the estancia or barbecue at he hunting area.

15:30hrs. Hunt again until the sundown.

19:00hrs. Return for a delicious dinner, after some drinks and hunting stories.
We Include:
• Bilingual host and assistance with the guns at the international airport.

• All ground transportation.

• Lodging in typical Argentinean estancias or in
country hotels.

• All the meals are included with drinks and soft drinks.

• Free bar service.

• Full time personalized guiding, with the most experienced guides in each area.

• Hunting licenses

• Beverage during the hunting.
Not Included:
• All airfares and taxes.

• Laundry

• Phone calls

• Personal expenses.

• Firearms permits costs (U$ 100 per gun)

• Hunting license (U$ 25 for a Week)

• Shells, U$12 a box (25 shuts)

• Tips U$25 per day, per hunter