Wingshooting - High Volume Dove and Duck Hunting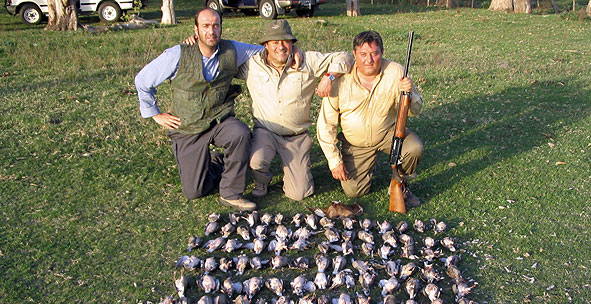 Destination: Victoria, Entre Ríos (3:15 hours drive)
This Lodge is only 3 hours drive from Buenos Aires and is 1 mile from the port, from where every morning we board a boat to the hunting area on the Parana river side. The east side of the river is surrounded by hundreds of islands and marshes, which provide an excellent natural habitat for ducks. Victoria's landscape offers an excellent destination to hunt High Volume Doves, where you can shoot more than 500 shots per hunt.
An excellent choice to do mix bag Doves, Ducks & Perdiz in the same location
The best season to hunt here is from April to August.
Day 1
9:00 am, pick up at the hotel or airport.

12:30 pm, Meeting and "Asado" at the Lodge
(Argentine style grilled beef).

15:30 pm, Dove hunt until sunset.
(you can shoot over a 1000 sells)

19:30 pm, Back to the Lodge, Accommodation and Dinner.
Day 2, Day 3, Day 4:
5:00 am, Duck hunt.

12:30 pm, Lunch at the Lodge.

14:30 pm, Dove hunt.
(option to hunt perdiz in the afternoon).

18:00 pm, Drive back to the Lodge.
Day 5:
5:00 am, Duck hunting

12:30 pm, Lunch at the lodge.

15:00 pm Drive back to Santa Fe.


We Include:
• Three full guided hunts.

• Transfer from and to Buenos Aires.

• All inclusive accommodations at the Lodge.

• Every meal with soft drinks, wine and beer.

• We speak English.
Not included:
• All airfares and taxes.

• Phone calls

• Shotgun rental, U$ 40 a day.

• License U$ 40

• Personal expenses.

• Shells, U$12 a box (25 shuts)

• Tips U$25 per day, per hunter
Price:
5 days program with 8 hunts & All inclusive Lodging:
• 2 a 4 hunters u$s 1800 per hunter.
• more than 4 u$s 1700 per hunter.