Wingshooting - Ultimate Wingshooting Combo


3 days DOVE & 4 ½ days DUCK and GEESE

15 hunts in 9 All Inclusive hunting days

4 HUNTERS: U$S 3870 per Hunter / 6 HUNTERS: U$S 3690 per Hunter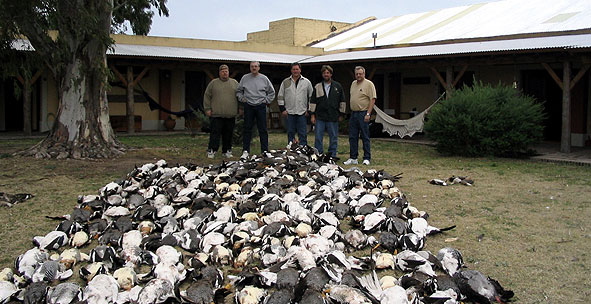 Travelling around Argentina

"La Camila Lodge, Yatay Lodge & Hinca Loo Lodge"
Day 1:

Reception and custom assistance at Cordoba airport. Transfer to the lodge, Lunch, and afternoon HUNT until sundown.

Day 2-3:

Morning and afternoon HUNT.

Day 4:

Morning HUNT, lunch, and transfer / fight to Dolores DUCK Lodge. Accommodation & dinner.

Day 5 and 6:

2 Full days of DUCK HUNT.
In the afternoon, pigeons or partridge hunt are available too.

Day 7 and 8:

2 mornings of Goose HUNT.
in the afternoon we hunt Partridge or pigeons.

Day 9:

Goose HUNT in the morning. Lunch, and transfer / flight to Buenos Aires airport.
End of services.
Includes:

• Reception and customs assistance at Buenos Aires airport.

• Domestic airfares.

• Transfers from / to Airports / Hotels.

• All time assistance.

• All ground transportation in hunting area. Minivans and HV´S.

• Accommodation in Estancias or Country Hotels.

• All meals and beverages. "ASADOS"

• Bird boy.

• Beverages: wine, sodas, beer and water.

• Beverages during the hunting.

• Open bar.




Not included:

• Phone call.

• Laundry service

• Personal insurance.

• Tips (u$ 25 per day).

• License (u$ 65 at dove area & U$ 25 at duck and Geese area per week).

• Gun permits in Argentina ($ 100 per gun).

• Shells, US$ 10 per box.

Gun rental u$ 35 per day.